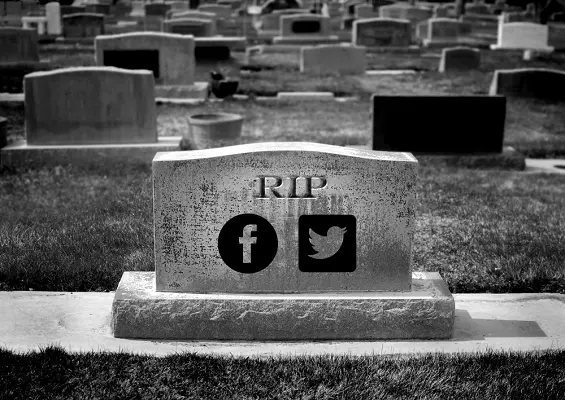 Teknologi.id - 
We're often told to be careful what we post online, as it will be there forever, even when you die. Is that true? What happens to your social media accounts when you die? In the age of
social media, everyone's digital life remains available after their deaths. However, what each social media platform does with accounts when its users pass away varies, and also depends on the wishes of the immediate family. For some people, having the option to visit a deceased person's social media account can offer comfort, while others prefer that the page is deleted for good when a loved one passes away – so some social media platforms offer both options. On
Facebook
, where millions of users have died and left behind profiles since the site's inception, the account of a loved one can be turned into a memorial account or closed forever. When
Facebook
, which sees 8,000 members die a day, first introduced memorial accounts, anyone could report a user as dead – which would permanently lock the account and keep it from posting updates or appearing in birthday notifications. However, in 2015, the platform
announced
a policy that would implement a "
Legacy Contact
," who, in the event that a person died, could sign on to the account and "pin a post on the Timeline." The legacy contact, chosen from someone's Facebook friends, cannot read the deceased person's messages but can change their profile photo and archive posts and photos. Users can also choose to have their profiles permanently deleted when they die, by choosing the option under settings then security. Following a loved one's death, a family member can also request that Facebook removes the profile by sending a death certificate.
Instagram
also has a similar policy for dealing with deceased users, as pointed out by
The Sun
. According to
Instagram
's policy, the account of a deceased person can either be reported and then memorialized, or an immediate family member can request that the account be deleted. To memorialize an account, Instagram requires proof of death "such as a link to an obituary or news article." On
Twitter
, the only option when someone dies is to have the account deactivated. To deactivate a Twitter account following the death of a loved one, Twitter requires an immediate family member to present a copy of their ID and a death certificate of the deceased. For
Pinterest
users who have passed away, the platform will deactivate the profile if requested by a family member. The site does specify, however, that it will not give out any personal or login information following the death of a user. As for email accounts,
Gmail
will also close a deceased person's account at the request of an immediate family member. The email platform may also "provide content from a deceased user's account" in certain circumstances. Or, users can opt to turn on the option of
Inactive Account Manager
, which will share or delete an account after a period of inactivity.
(DWK)